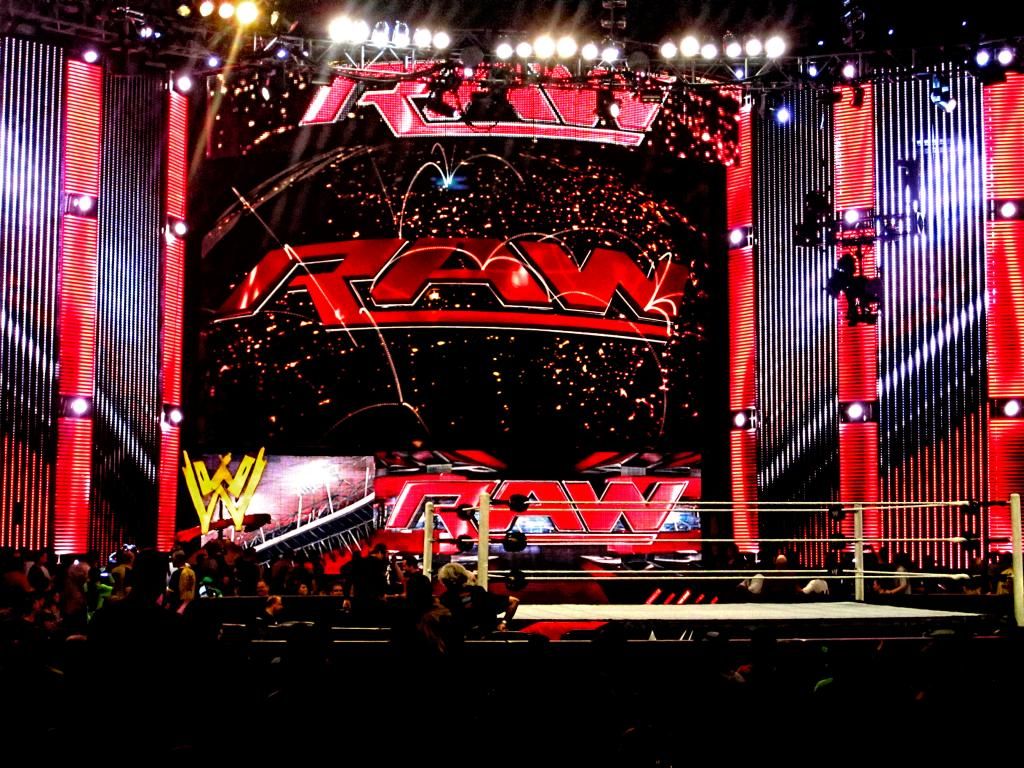 This is my thoughts on this past Monday's Raw.
The 12/8/14 edition of Raw was also the Slammy episode. However, I will post my reactions to the Slammy winners in a separate post.
The episode opened with Seth Green being introduced as the Guest Host. Overall, I think that Seth Green did a great job as host. The highlight was watching Damien Sandow aka Mizdow imitate The Miz. This gimmick is always guaranteed to bring laughs. Sometimes I think that the WWE is grossly underusing Damien Sandow but at least he is being used in a manner that creates laughter for the WWE Universe. I am waiting patiently for the day when "Mizdow" turns on The Miz and becomes something great.
The first match of the night was
Dolph Ziggler vs Seth Rollins
.
My Prediction: Seth Rollins
Actual Winner: Seth Rollins
In all honesty, I miss the feuds that Seth had with Roman Reigns and Dean Ambrose. Those feuds were intriguing and made sense since he betrayed them. Besides being a match to try and fuel each competitor in their matches scheduled for the PPV, this match meant little else. Both are skilled wrestlers and always put on a show when in the ring. However, this match did not live up to the expectations. Seth Rollins picked up the win after interference by Jamie Noble and Joey Mercury.
The next match saw
Kofi Kingston (with New Day) vs. Stardust (with Goldust)
My Prediction: Kofi Kingston
Actual Winner: Kofi Kingston
I am interested to see how they go with the New Day gimmick. I think this is a great faction full of talent. On the other hand, I am over the Stardust gimmick. It was only interesting for about the first day of it. I picked Kofi to win, not based on my displeasure with the Stardust gimmick and intrigue with the New Day gimmick, but based on the fact that I believe that Kofi has an edge on Stardust when it comes to talent and technique.
Next, we saw Paul Heyman arrive backstage and Seth stop for a little promo. Seth is running out of time to cash in his Money in the Bank briefcase. He also no longer has the Authority around to help him seal his deal; he is essentially on his own with this. Heyman is the type of person that makes you hate him as soon as he gets on the "mic"; he plays the perfect heel. Heyman paid a few compliments to Rollins and then told him that John Cena stood in Rollins way to the top.
Charlotte vs. Natalya
My Prediction: Charlotte
Actual Winner: Natalya
Charlotte made her debut from the NXT roster onto the main show tonight. This could be for one of two reasons. First, WWE could simply be promoting the NXT (R) Evolution event that is coming up. Or Second, Charlotte may be coming up to the main roster soon. Tonight they had her going against Natalya, which I think was a great decision. These two Divas complimented each other in the ring the entire match. I thought that Charlotte was going to win this to prove that she deserved the chance to be on the main roster. However, it was Natalya that picked up the win. I see that WWE is playing the marital tension story even more now and had Tyson Kidd steal Natalya's celebration, possibly causing more tension between the two. I am looking forward to Charlotte's arrival on the main roster. I feel that she would make a great adversity for Natalya, who is underused by the WWE.
Next, we saw Bray Wyatt on the mic cutting a promo for his match at TLC against Dean Ambrose. Whenever Bray is on the mic, expect an awesome promo. While I miss the Rollins/Ambrose feud, I think the Ambrose/Wyatt feud has a lot of potential. WWE needs to push this feud and give it the airtime it deserves. During Bray's promo, Dean Ambrose arrived and cut his own promo as only he could. I am a huge fan of Jonathan Good aka Jon Moxley aka Dean Ambrose. I loved his promos as Jon Moxley and I love this version of Dean Ambrose. I hope the WWE dedicates enough time and energy to this feud before it runs its course and the two move on to feud with others.
The next match saw former teammates,
Luke Harper vs Erick Rowan
My Prediction: Erick Rowan
Actual Winner: Erick Rowan
I took a long hiatus from WWE (from Survivor Series until this past week or so) so I missed the whole Wyatt family separation. I am not quite sure why they split and why these two are suddenly on opposite sides. However, I was intrigued to see how these two worked together given the fact that they have gone from tag team partners to enemies. I am also interested in seeing how these two fare in their solo wrestling gigs. They haven't lost their image from the Wyatt family gimmick but they just don't get along now. This match did not last for too long or showcase much of either's abilities. Erick Rowan won this match after Harper was disqualified.
Backstage we see Jimmy Uso and Naomi talking, mostly about The Miz and his agent. I really like that WWE is putting Naomi in a good storyline rather than just using her as a "tag team partner" for such and such. I truly believe that she should have had a significant and legitimate push for the Divas Championship back before her eye injury. I am unsure if I like the whole jealous husband story but it seems like Jimmy is going to have a reason to be. The only thing with this story that I do not like is that it appears that the Usos will be feuding with The Miz and Damien Mizdow, which means more of a one on one feud for the Tag Team Championship.
Next, we have Rusev and Lana coming out to more than likely insult America. *Snore* This gimmick has outstayed its welcome with me. Personally, this feud with Jack Swagger would make a lot more sense to have begun when Rusev first came onto the scene. Now, it's just boring. Hopefully, this story surprises me and turns into something enjoyable. Although, in all honesty, Lana's voice irritates the living daylights out of me and I really prefer not to hear her talk.
Next, we have a six man tag team match. It's
Ryback and The Usos vs Kane, The Miz, and Mizdow
My Prediction: Ryback and the Usos
Actual Winner: Ryback and the Usos
This match was completely boring and served no purpose in my opinion. I suppose it was to push the Ryback vs Kane match or the Tag Team Championship match, both at the TLC PPV on Sunday. This was one match they could have done without and replaced with a much better match. Of all the TLC match participants, this was the only group that wrestled against their PPV opponents. All the others wrestled against other people.
We had a second Divas match tonight. This time it was
AJ Lee vs Summer Rae
.
My Prediction: AJ Lee
Actual Winner: AJ Lee
I am not a Summer Rae fan. At all. She is one of my least favorite Divas. I would have rather seen AJ face Naomi than this. I think I actually cheered when AJ got Summer Rae to submit. Not because I am an AJ fan, but because the match was over and I wasn't going to be subjected to Summer Rae for another moment. I may like Summer Rae a little better if the WWE would put her into a decent storyline. Her stalker/obsessed story with Fandango was not the story for her and definitely did not win any points from me. I would like to see her story with Natalya developed more. I think it would help both of their careers. AJ Lee needs to be a regular Diva rather than the champion for awhile. The championship needs a new home away from AJ for awhile.
The final match of the night was
The Big Show vs John Cena
.
My Prediction: John Cena by DQ
Actual Winner: John Cena by DQ
I called this match from the very beginning. I knew that there was going to be a DQ because someone was going to attack Cena. Of course that someone turned out to be Seth Rollins and J & J Security. It turned out to be a free for all between the members of Team Cena and Team Authority. At the end, it turned out to be Team Authority standing tall over Cena and the members of Team Cena.